Preschool
About Conyers First Preschool.
Conyers First UMC Preschool is a weekday preschool. We are dedicated to partnering with you in helping your child to grow in the most fundamental ways. First in foremost we are devoted to sharing Christian values with each child through our words, our actions, and our lessons. We are steadfast in our commitment to promote the growth of the physical, intellectual, social, and spiritual aspects of every child in our care. Finally, we strive to provide the best program that will prepare them for the next step, elementary school.
Roly-Poly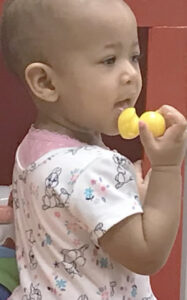 This is our infant class that meets 2 days a week for our tiniest students.  They are 6 weeks to 12 months at the time of enrollment or September 1.  This class gives little ones an opportunity to become comfortable with other people in a warm and loving environment. They are talked to, sung to, they do cute artwork, play with friends, and of course, have naps and snacks.
Doodle Bugs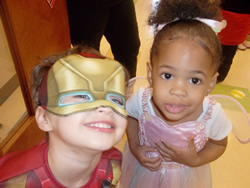 The one-year-olds at Conyers First Methodist Preschool & Arts Academy are known as the "Doodle Bugs". Despite their small size, the Doodle Bugs learn and grow in a BIG way throughout the school year. The one-year-old class provides a loving environment with the information taught at a proper age level that focuses on the development of each child. 
Leapin' Lizards.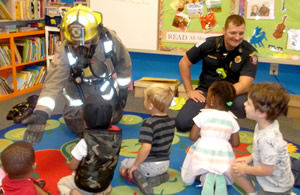 Our two-year-old classes at Conyers First Methodist Preschool & Arts Academy are known as the "Leapin' Lizards". Our two-year-old teachers work hard to create a fun and loving environment where these little ones can learn, grow, and develop. We believe that daily one-on-one time is very important in the two-year-old class to ensure proper development and growth. The Leapin' Lizards work individually with their teachers each day to practice a skill and art project. Students are assessed individually and work at their level. The Arts Academy begins in the Leapin' Lizards class. These students get to take art, music, and dance each week.
Super Kids.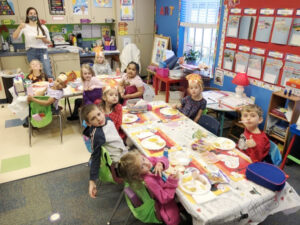 The three-year-olds at Conyers First Methodist Preschool and Arts Academy are known as the "Super Kids". These are dynamic classes where children are immersed in the learning and development of social skills through play and several activities. The classroom incorporates child-led activities, teacher-led activities, and group exercises to achieve the best learning experience. These students also take art, dance, music, and SPANISH each week.
Questioneers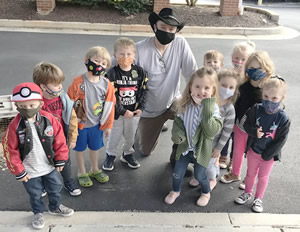 Our Kindergarten class is top-notch. Taught by a certified early childhood education teacher.  Our class size is no more than 10 children, so each child gets individualized attention to ensure they are ready to transition to 1st grade easily.  We work to make sure each child is taught the same standards as Georgia public school and more.  Our students are often prepared over and above their peers when they enter first grade.
Explorers
Students in our four-year-old class at Conyers First Methodist Preschool & Arts Academy are known as the "Explorers". Like all of our classes, the four-year-old class offers a loving, nurturing, Christian environment for the children. This year of preschool is getting our students ready for big school. They are working towards handwriting, reading, and math skills that will make elementary school a breeze.
 Arts Academy.
Our Preschool is proud to announce that we now have an Arts Academy.  We offer classes in creative movement, visual arts, music, and Spanish. Our Arts Academy is included in your child's tuition.
At Conyers First United Methodist Church Preschool we offer many opportunities for children to learn.  Experiential learning is the key to little ones retaining the information they are taught. 
Chapel.
Chapel is taught weekly by the children's director and church staff of Conyers First United Methodist Church.  During this time the children are told the stories of the Bible on their level, so they can begin to understand the love God has for them.
Chapel gives children time to grow spiritually by voicing their thanks to God. At our Preschool, children participate in praise and worship centered around stories from the Bible. Chapel is led by our Children's Director, Shane Burns. It is a time for the student body as a whole to gather together, sing, pray, listen to stories, and talk about God.
Field Trips.
Field Trips are done in-house or are done locally due to car seat regulations and for the safety of our students.  Fortunately, Conyers First United Methodist Church Preschool is situated right in the heart of Olde Town Conyers.  This avails us the opportunity to walk to many local businesses, Preschool Pops, and the Nancy Guinn Library.
Throughout the year, our students are visited by several special guests. These guests may have a special job or talent, wear a special uniform or outfit, operate a special vehicle, etc. Regardless of who the guests are, they all share a common purpose. These guests visit our Preschool to share special information and stories with the students that further enhance their learning experiences.