Who Are United Methodists
Who Are United Methodists?
Basics of Faith.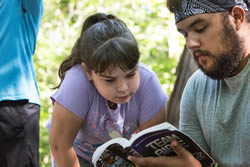 The United Methodist Church shares a great deal with other denominations. Explore what we believe about God, Jesus, the Holy Spirit, the Bible, and more.
We also have a unique heritage and areas of emphasis. Learn what we mean when we talk about grace, how we serve people around the world, and ways we grow as disciples of Jesus Christ.
Advocating for Justice.
The United Methodist Church has a long history of advocating for social justice. John Wesley and the early Methodists expressed their opposition to societal ills such as slavery, smuggling, inhumane prison conditions, alcohol abuse, and child labor. Learn how we continue in ministries of justice today, and find places where you can serve.
We are Disciples.
United Methodists are disciples of Jesus Christ who continue to heed the lessons John Wesley taught his followers: to live lovingly and justly as servants of Christ by healing the sick, feeding the hungry, caring for the stranger, freeing the oppressed; being a compassionate presence, and working to develop social structures that are consistent with the gospel.
Explore the ways we are serving throughout the world in different ways.
Following God's Call.
Principled, visionary, and effective leaders help United Methodists grow in faith and in sharing God's love with others. The church is focused on inviting and preparing people to become clergy and lead the church in a world-transforming ministry.
The early Methodist movement grew through the efforts of the laity who led small groups, taught Bible study, and provided outreach ministry. Developing strong lay leaders is another important component of creating a church engaged in the work of making disciples.
Promoting Health and Wholeness.
Because we care about the well-being of all people, health is a major focus of the work of The United Methodist Church. Together, we combat diseases of poverty such as malaria, HIV/AIDS, and tuberculosis; we provide health education, advocacy, and infrastructure; and we continue our more than 160-year history of being a key provider of healthcare through the hospitals, clinics, and mission centers we have operated across Africa. Through its Abundant Health initiative, now the church has achieved its goal to reach 1 million children with lifesaving and health-promoting measures by 2020.
Practicing Your Faith.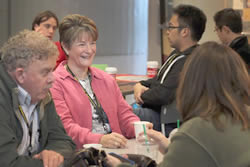 United Methodists help one another grow as disciples of Jesus Christ.
John Wesley, the historic founder of the Methodist movement, succinctly described the plan of discipleship in what he called The General Rules. As Christians, we are to (1) do no harm by avoiding evil of every kind; (2) do good to all people; and (3) attend upon all the ordinances of God like participating in worship, taking Communion, reading the Bible, praying, and more.
Spiritual Growth Tools.
As we seek to grow as disciples of Jesus Christ, we need encouragement, tips, and tools to assist us along the way.
In these pages you will find examples of others living their faith every day, helps for your devotional times, and advice on how to love and serve your family, neighbors, friends, and strangers.
To have inspirational stories and videos delivered directly to your inbox subscribe to United Methodist Now. Twice each month, we deliver examples of Christian living, timely messages, and information on what it means to be United Methodist. All designed to help you on your spiritual journey.
UMC Family Tree.
The United Methodist Church was formed when the Evangelical United Brethren Church and the Methodist Church merged in 1968. Both traditions have roots in the 1700s.
Today, The United Methodist Church is global, with more than 12 million members around the world. While our languages, cultures and nations of origin may differ, a common mission and history unite us in powerful ways.
Structure.
The United Methodist Church does not have a central headquarters or a single executive leader. Duties are divided among bodies that include the General Conference, the Council of Bishops, and the Judicial Council.
These entities are required by our Constitution to be part of our structure. Each plays a significant role in the life of the church.
History.
The United Methodist Church was created in 1968, but Methodism dates back to John and Charles Wesley who sought to spread the Methodist movement they began as a student small group at Oxford. At about the same time, people like Philip Otterbein and Martin Boehm were leading similar movements that helped people grow in their faith. Those two strands of Christianity came together decades later to form The United Methodist Church.